The Best Wet Cat Foods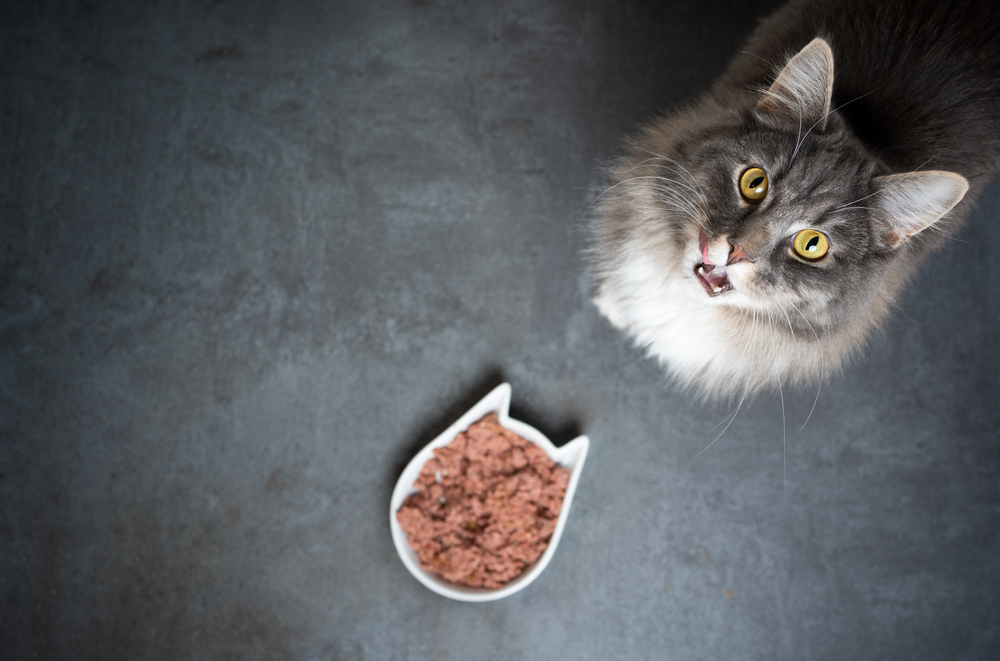 We all know cats can be judgmental. They have no problem turning up their noses (or tails) at bowls of food they don't particularly like. And wanting to kowtow to their individual needs, we cat lovers will go above and beyond to provide them with whatever they want to get their engines fully revved up. But even the pickiest of eaters can't resist the aroma of wet cat food. So, with that in mind, let's take a look at some of the best wet cat foods to keep Fluffy happy, satisfied, and full.
Purina Fancy Feast
This iconic canned food is exactly what it claims to be: a fancy feast for your cat.
Pop open a can of Fancy Feast and watch your cats purr. This wet cat food has a knack for getting cats' senses tingling. They'll purr, they'll rub up against your leg, and then they'll thank you by taking an all-too-satisfying nap. And the best part is that Fancy Feast contains all the essential vitamins and minerals that your cats crave. With over a dozen different flavors to choose from, there's enough variety to keep this feast fancy and fresh meal after meal.
Pros:
We appreciate the variety of flavors and textures, as it ensures your cat will find one to their liking.
Unlike some cheaper options, this formulation uses real beef.
Cons:
This food may cause stomach irritation in some cats with digestion issues, so be sure to monitor your cat closely the first few days you start with this food.
Sheba Wet Cat Food
This wet cat food provides the perfect portions for your feline friend so that nothing goes to waste.
Sheba delivers on its promise of serving the perfect amount of wet cat food in each portion along with ingredients that are ideal for sensitive cats. Free of corn, soy, and wheat, each container of Sheba is rich in protein and flavor. As a bonus, you'll find there won't be any messy leftovers that you might find with the overly-portioned canned foods.
Pros:
If your cat has food allergies, this pick's corn-, soy-, and wheat-free formulation may be perfect.
The containers are perfectly portioned for most cats, so you won't end up wasting food.
Cons:
The packaging can be difficult to open, especially if you suffer from arthritis or related conditions.
Purina Beyond Grain-Free Natural Adult Wet Cat Food
Give your cat only what they need and nothing else with this grain-free formulation.
Purina is once again back on the list, this time with their premium, grain-free adult wet cat food. With over a dozen different varieties and flavors, the Beyond line from Purina is free of corn, wheat, and soy, as well as containing zero artificial flavors, colors, or preservatives. Adding to the healthy appeal is a list of wholesome vegetables, including spinach.
Pros:
We appreciate that unlike some of the competition, this food contains zero artificial flavors, colors, or preservatives.
What sets this apart from the bunch for us is the inclusion of wholesome vegetable ingredients in the formulation.
Cons:
Cats who aren't accustomed to a grain-free diet may have a hard time digesting this at first, so keep an eye on them when they start eating this.
Purina Friskies Gravy Wet Cat Food
This variety pack includes four different flavors of tantalizing gravy-covered meals.
Purina is back on this list with their 24-can variety pack that comes with 6 different wet foods that are smothered in gravy. Adding to the appeal is the fact that each flavor is made with tender chunks of real meat, poultry, or seafood. And as Purina always has your cat's best interest at heart, this variety pack is free of macadamia nuts.
Pros:
Purina doesn't short-change your cat on the gravy here. There is plenty here of gravy in each serving.
This tends to be great for cats with sensitive stomachs.
Cons:
While we appreciate the variety in flavors, there are only six cans of each flavor. That means if your cat loves one in particular, you'll only have a few cans of it.
Frequently Asked Questions
What should I look for when purchasing wet cat food?
There are so many varieties out there, it's almost a trial-by-error type of deal. Some cats love gravy while others don't. Some love a pate texture while others don't. It's best to read the ingredients, too, as some may irritate your cat's stomach and cause skin irritations. But once you find that perfect brand, both you and your cat will be more than thankful.
Does pricier necessarily mean better?
It does not. Yes, certain high-quality ingredients allow some brands to charge more, but that doesn't mean your cat will take to the high-end wet foods. In fact, you'll find that some of the more affordable options will turn out to be your cat's favorite.
Are there advantages to wet food over kibble?
There are some definite advantages. For one, wet food is easier on your cat's teeth, which is crucial once your four-legged furry friends grow into seniors. Plus, wet food comes in a greater variety of flavors, and some options come in assorted variety packs. From a personal standpoint, having two cats myself, I can tell you for a fact that they absolutely love the popping sound that comes with opening up a can of wet food. Their purr motors fire right up and they start rubbing against my leg. An added advantage to wet food is that a majority of brands pack their cans with essential vitamins and minerals.
About the Author
Why Trust Us
Since 2008, CatTime has provided millions of cat owners with all the information they need to keep their pets happy and healthy. Our experts know exactly what it takes to raise our furry friends and our goal is to help all owners, new or experienced, care for their cats with all the right food, toys, equipment, and accessories.