The Best Lickable Cat Treats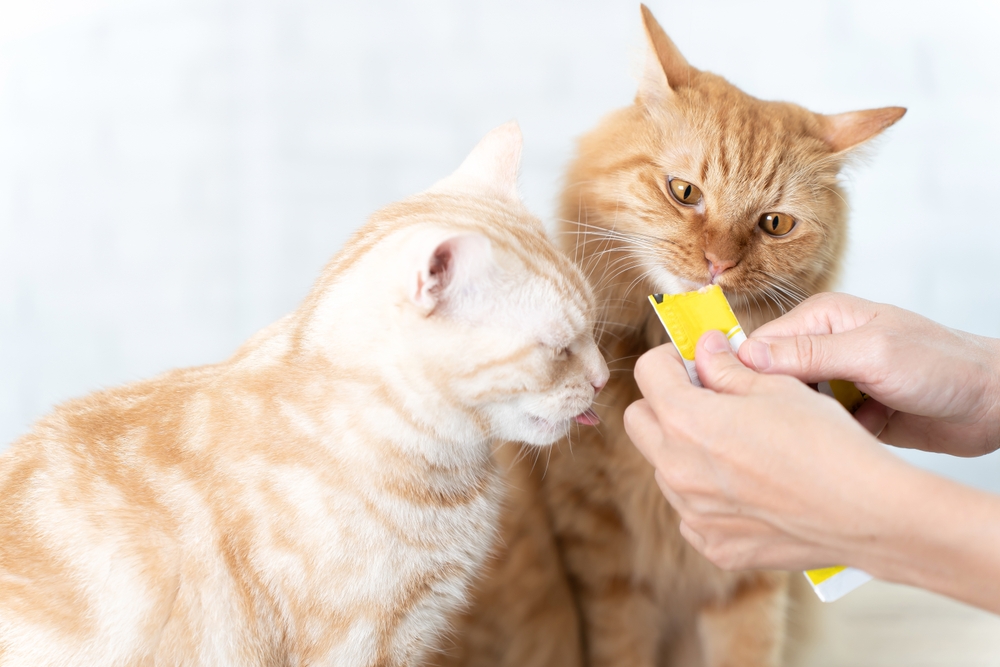 Whether your kitty has difficulty chewing hard treats or you simply want to spoil them, lickable cat treats are an excellent choice. These purées come in single-serve packets. You can drizzle them over your pet's meal, squeeze them into a dish on their own, or feed directly from the packet. Several sizes, flavors, and brands are available to choose from, and you can learn all about them in the following post.
What to Look For
Considering flavors, pouch sizes, and prices, we pulled together a list of the best lickable cat treats on the market today. From the start, we knew Inaba's snacks were something special. The crave-worthy flavors and added vitamins are just too good to ignore. We also liked the Hartz Delectables for their larger-than-average serving size. Which version will be most enjoyable for your furry friend? Scan through our review below to find out.
Inaba Lickable Churu Cat Treats
These tasty pouches are made with care by the best-known brand in the market.
These yummy cat treats stand out for more than just their flavor. Inaba Churu cat treats are filled with human-grade ingredients, so you can trust them to keep your cat healthy. They're also low-calorie, with just six calories in each tube. The treats are free from grains, preservatives, and artificial ingredients and instead are supplemented with necessary nutrients like vitamin E and taurine. And since the 20 tubes come in 5 different flavors, we think it will keep your picky cat happy too.
Pros:
Made with farm-raised chicken and wild-caught tuna

Easy to open
High moisture content
Cons:
Price is on the higher side
Hartz Delectables Lickable Cat Treats
This huge value pack will help you spoil your pet for weeks to come.
These cat treats are affordable and delicious. They come in a pack of 48 with four different flavors — chicken, chicken with veggies, tuna, and tuna with shrimp. The ingredients keep out by-products, grains, fillers, artificial flavors, and added preservatives. Your kitty can have up to three tubes per day, either on their own or spread across the top of their dry food.
Pros:
Convenient storage jar included

Flavors are a good fit for picky cats
Tubes can be saved in the fridge after they're opened
Cons:
Cats get addicted to the flavors easily
Nulo Freestyle Purée Cat Treats
This small set of pouches is perfect for giving this new snack form a try.
If you've never given your pet a cat treat, this small pack from Nulo could be a good place to start. It comes with six affordably-priced tubes in a grain-free chicken and salmon flavor. The ingredient list is clean, with only seven items included. Prebiotic fiber is added to help kitties' tummies as a bonus.
Pros:
Low calories

No artificial colors or preservatives

Larger packs available for your next order 
Cons:
Only a few flavors to choose from
Temptations Creamy Lickable Cat Treats
This chicken-based pack is perfect for all of your meat loving pets.
These low-priced lickable cat treats come in some of the best flavors we've seen, considering cat preferences, of course. Each tube is poultry-based in this option. However, salmon flavors are available as well for any pets who are more into fish. There are 24 pouches included, and they can be served on their own or spread over food. Cats can have 1-2 tubes every single day and can be used to encourage them to eat their main meal.
Pros:
Only 15 calories per packet

No fillers in the ingredients
Can help cats take necessary medications
Cons:
Designed for adult and senior cats only
Hartz Delectables Large Lickable Cat Treats
These generous pouches are nearly three times the size of the average snack tube.
If your pet is a big fan of lickable cat treats, the typical half-ounce serving size may not be enough. These tubes hold 1.4 ounces each, so you don't have to keep opening tubes when your furry friend asks for more. The ingredient lists include real poultry, ranging from chicken to duck, depending on the specific flavor. Fillers, preservatives, and by-products are never added.
Pros:
Affordable when additional size is considered

Cats can have 2 per day

Works well as a cat food topper
Cons:
Need to be shaken before serving
Frequently Asked Questions
Can lickable cat treats help pets who take medicine?
Since cats enjoy these tubes so much, it's often easy to sneak pills into the mix while they lick up the flavors. You can do this by hand or by placing the pills in a bowl with the purée. The pickiest cats may need you to make everything the same texture to ensure it all goes down, which may include crushing pills if your veterinarian allows.
Can cats of all ages eat these?
Most lickable treats are made for cats of all ages. They work exceptionally well for senior cats since they do not need to use all of their teeth to chew them. And, of course, even the youngest kittens will still enjoy the flavor and novelty of lickable cat treats.
About the Author
Why Trust Us
Since 2008, CatTime has provided millions of cat owners with all the information they need to keep their pets happy and healthy. Our experts know exactly what it takes to raise our furry friends and our goal is to help all owners, new or experienced, care for their cats with all the right food, toys, equipment, and accessories.