The Best Cat Treats For Indoor Cats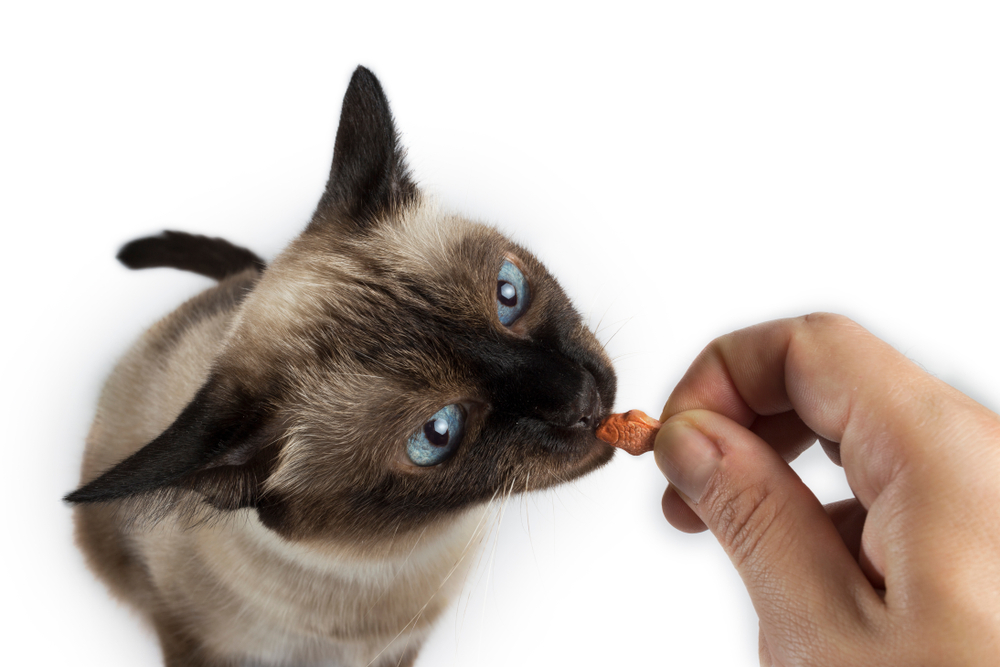 If you have a pet cat at home, you know just how special these creatures can be. One of the most rewarding parts of owning cats is giving them their daily treats. Kitties love the tasty little nibbles, and making your furry friend happy serves as a bonding experience for the both of you. But to make treat time the best it can be, it's important to choose the perfect desserts for your specific pet. Read on to discover crunchy kibbles, soft delicacies, versions with all-natural ingredients, and more.
What to Look For
When searching for the best cat treats for indoor cats, we focused on three key questions: Is it healthy? Is it tasty? Is it reasonably priced? Our research led us straight to Blue Buffalo's Burst treats for their quality ingredient list and desirable texture. We were equally impressed by the Halo version due to its one-item ingredient list. Which treat will work best for you and your pet? Simply read through our favorite picks to find out.
Blue Buffalo Bursts Crunchy Cat Treats
These tasty snacks are firm on the outside and soft on the inside.
These yummy cat treats have benefits that you and your pet can appreciate. To start, they're made with real ingredients and provide a decent amount of protein. They're free from by-products, grains, fillers, or artificial ingredients. The texture is uniquely crunchy on the outside and soft on the inside, ensuring almost all pets will be able to enjoy them as well.
Pros:
Affordably priced

Salmon is the first ingredient
Low in calories
Cons:
Texture may be difficult for cats with lots of missing teeth
Fruitables Healthy Cat Treats
These pieces are packed with superfoods to improve your pet's overall health.
If you're looking for a treat that can impact your pet's health in a positive way, Fruitables are worth considering. These snacks offer pea fiber, salmon, cranberries, and flaxseed to provide protein, antioxidants, essential fatty acids, and digestion support. The ingredient list is limited and easy to understand. No wheat, corn, soy, by-products, or artificial flavors are ever included. And the flavor is crave-worthy for your cats at the same time.
Pros:
Flaky texture inside

Several healthy flavors to choose from

Made in the United States
Cons:
Only small packs are available
Halo Freeze-Dried Raw Cat Treats
These strips are made of 100% salmon for a natural, protein-packed snack.
These treats are made with just one ingredient — raw, freeze-dried salmon. They're a great tool for adding protein to your cat's diet, as well as treating your pet in a fully-healthy fashion. Depending on your pet's preferences, the bits can be served dry, torn apart, or wet down to soften them up. They're fully preserved during the drying process, allowing for shelf-stable storage between feeding sessions.
Pros:
Good for both cats and dogs

Low in odor unless the treats are wet
Packed with naturally occurring nutrients
Cons:
Higher price point due to the quality of the treats
Blue Buffalo Grain Free Cat Treats
Grab these snacks to provide your pet with more of the nutrients they truly need.
These crunchy cat treats for indoor cats are an easy way to add more protein to your pet's diet. They're made by the trusted brand Blue Buffalo, and they come in a delectable chicken flavor. Each piece is grain-free, as well as free from artificial flavors and preservatives. And this purchase gets you 12 individual bags, which will keep your cat's treats fresh for as long as it takes them to get through their stash.
Pros:
Reasonably priced

Meat is the main ingredient
Moist texture inside
Cons:
Outside may be too hard for older cats to chew
Greenies Pill Pockets Treats
This treat helps kitties swallow their medication when you can't quite convince them to do it on their own.
If your indoor cat takes medication, these pill pocket treats from Feline Greenies could be of great help. They have a hole to place the pill inside, as well as a tasty salmon flavor that tricks cats into eating the entire combination. The treats themselves are made of healthy, natural ingredients. They never include artificial fillers, preservatives, or flavors. They're veterinarian recommended for your peace of mind, too.
Pros:
Pinch-shut design holds pills in place

Supports oral health

Aids in digestion
Cons:
Not designed for cats who don't take medication
Frequently Asked Questions
How often can my indoor cat have treats?
Most treats are designed to be fed to cats multiple times per day. Typically there are only a couple of calories each, and they contain other nutrients that actually support your pet's health. The only things you'll want to make sure of is that your cat isn't gaining unhealthy extra weight from their treats and that they are still consuming enough of their regular food each day.
Which treats are best for aging indoor cats?
If you have an older cat in your home, you're likely aware of the feeding challenges that come with their age. If your cat is missing a few teeth, they may need to stick to soft treats in order to fully enjoy them. You can also try wetting hard treats to help them chew the pieces better if they prefer the flavors that only come in crunchy varieties.
About the Author
Why Trust Us
Since 2008, CatTime has provided millions of cat owners with all the information they need to keep their pets happy and healthy. Our experts know exactly what it takes to raise our furry friends and our goal is to help all owners, new or experienced, care for their cats with all the right food, toys, equipment, and accessories.