The Best Cat Toys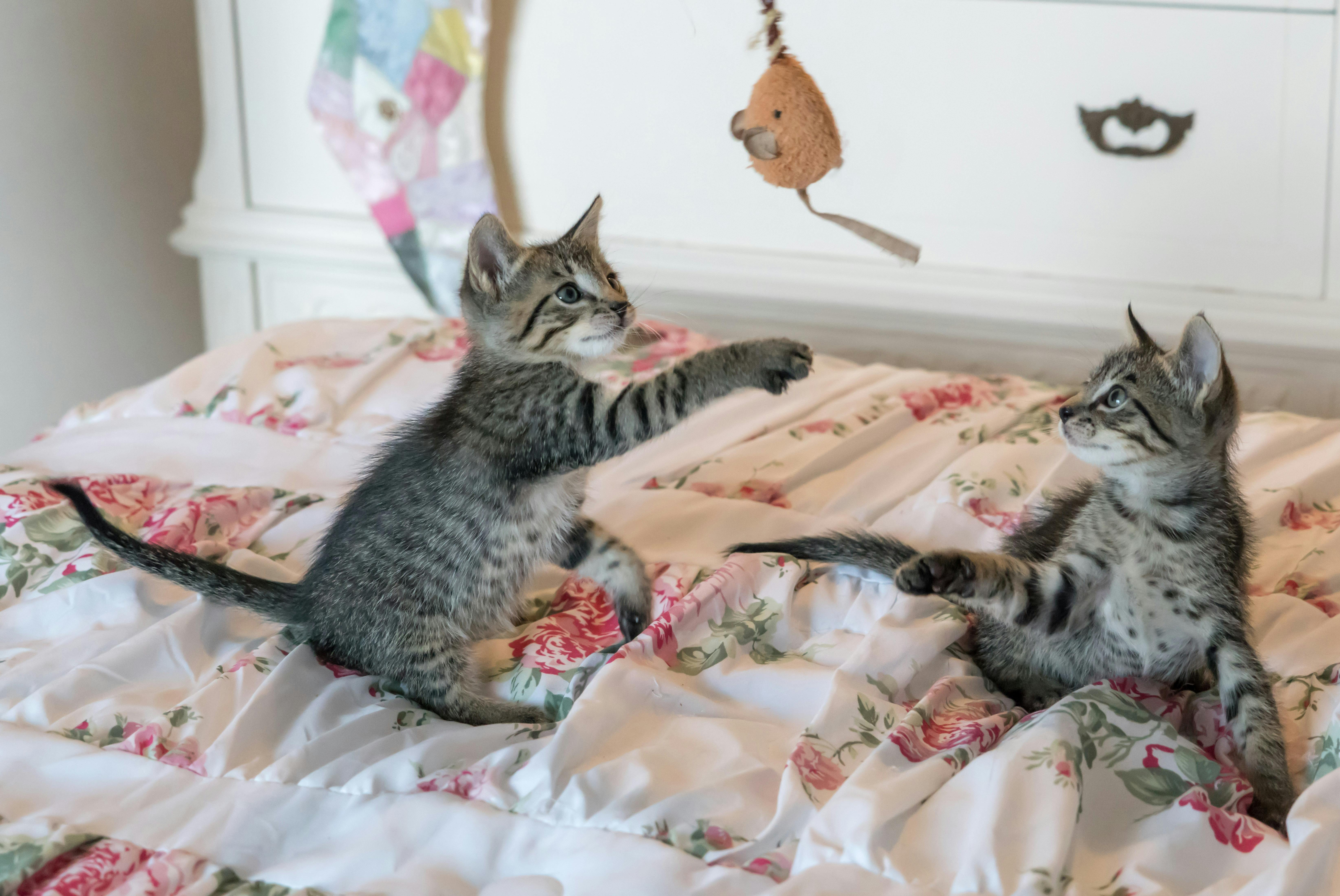 Cat toys are an excellent way to keep your feline friend from getting bored around the house. Playing is not only fun but also a great form of exercise. Balls, mice, and feather toys will encourage your cat to exercise, while toys filled with catnip can be a nice treat. Some cat toys are even shaped like puzzles and filled with goodies, so your cat will have to think about how to solve the puzzle before getting their reward. Whatever you pick, toys are an excellent way to engage your cat's brain and keep them sharp. In our research, we looked for toys that are durable, have a texture or smell that's pleasant to cats, and are mobile and fun for your cat to chase around. Our overall favorite was the electric flopping fish from Potaroma because it looks and moves like a real fish. You can also fill it with catnip, which is sure to keep even the pickiest felines entertained. If you're looking for something more interactive, we love the feather toy from MeoHui. The stick and string design mean that you can make the feathers "fly" for your cat. Plus, the toys are interchangeable so that they won't wear out. Keep reading to see our full recommendations and reviews of the best cat toys.
Potaroma Electric Flopping Fish Moving Cat Toy
This rechargeable fish toy flops around in a realistic way your cat will love.
Cats are hunters, and your little wildcat will love this realistic fish toy. It flops around as your cat plays, encouraging them to run around and get some fun exercise. The fish charges with a USB cord and the removable motor is safely housed inside the soft, realistic fish shell. As a bonus, there's a pouch that you can stuff with catnip to excite your cat even more.
Pros:
We found that cats love how the fish moves in response to them batting at it.
The outer casing is very sturdy and stood up well to rough play.
Cons:
The battery life is a bit short, but it charges quickly.
MeoHui Interactive Cat Feather Toys
Engage your cat's hunting instincts with this flying feather toy.
This exciting cat toy comes with nine different feathers and worms that your cat will love to chase. The telescoping wand is easy to store when you aren't using it, and the lures are simple to attach. Because the rod and the string are so long, you can play with your cat from the comfort of your couch or join them in running around your living room.
Pros:
Because you control it, this feather toy is great for bonding with your cat.
We appreciate all the extra attachments that come with the rod because when one toy wears out, you can replace it without a hassle.
Cons:
The handle and feathers are chewy and enticing to cats, so make sure to supervise them while you're using this toy.
SmartyKat Skitter Critters Catnip Mice Toys
Catnip is always a hit with our furry friends, and these potent mice are sure to please even the pickiest kitties.
If your feline friend has a catnip addiction, look no further than this value pack of catnip mice. Each toy is filled with potent, chemical-free catnip and shaped to look like a tiny mouse. Each one has soft ears and a dangling tail, but there are no long strings or small parts that could hurt your cat.
Pros:
Even though these toys are soft, we think they hold up well to chewing and clawing.
Cats will like batting the mice throughout the house, and they'll love carrying the mice around with them.
Cons:
The catnip scent wears off after a while, and there's no way to refill the toys.
Trixie Cat Activity Feeder
Occupy your cat with this unique puzzle that dispenses treats as they solve it.
Mental stimulation is just as important as physical stimulation, and this treat dispenser is designed like a puzzle for your cat to solve. There are several compartments that are opened in different ways, which makes your cat think about what to do. This means it's great for slowing down fast eaters or for keeping your kitty entertained if you're gone during the day.
Pros:
We found that this feeder is great for cats who eat too fast because it forces them to eat slowly as they figure out the puzzle.
We like how all the pieces come off the puzzle; it's easy to clean and sanitize between uses.
Cons:
If you feed your cat large kibble, it may get stuck in some of the puzzle grooves.
PetSafe Dancing Dot Laser Pointer Cat Toy
Your cat will love chasing the laser from this automatic toy.
This laser cat toy is an excellent option for unsupervised play because there is nothing for your cat to chew on or get tangled up in. Simply hang the toy on a doorknob or place it on a shelf, and the laser will move around the floor and walls. The little red dot is irresistible to cats, and they'll enjoy chasing it around the room.
Pros:
The laser's rapid, erratic movement will keep your cat entertained.
We love the timer feature because you can set it to come on at timed intervals if you're not home.
Cons:
You have to place the toy pretty high up to get a small dot for your cat to chase, but this also keeps the toy safely away from your pet.
Frequently Asked Questions
Will playing help me bond with my cat?
Playing with your cat is one of the best ways to bond with them because it's a fun and positive experience for both of you. Toys on a string are a great option because you control the toy's movement and can run around with your cat or do it while sitting on your couch. If you have small balls or toy mice, try tossing them for your cat.
What are the benefits of giving my cat toys?
Playing provides great stimulation and keeps your cat entertained while you're gone. If they're not bored, your cat is much less likely to scratch or chew your furniture. Also, playing during the day will tire your cat out, so they'll sleep at night instead of running around your house.
About the Author
Why Trust Us
Since 2008, CatTime has provided millions of cat owners with all the information they need to keep their pets happy and healthy. Our experts know exactly what it takes to raise our furry friends and our goal is to help all owners, new or experienced, care for their cats with all the right food, toys, equipment, and accessories.