The Best Cat Keychains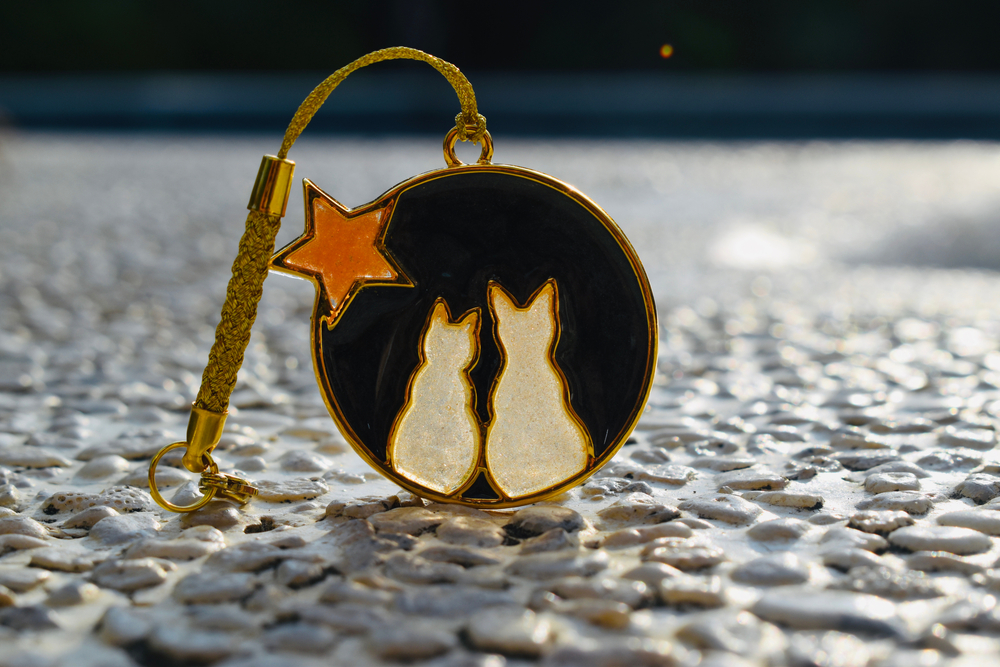 As friends of crazy cat parents know, it's impossible to get us to shut up about our cats. We welcome a conversation about them anytime it's possible. That's why we love cat keychains: they're the perfect indicator of a cat lover and can spark up a conversation. Plus, they look adorable and bring a bit of joy into our lives. What makes a great cat keychain? In selecting our favorites, we considered their style, size, weight, and texture. For something super lightweight, for example, we recommend JOVIVI for their little metal keychains. On the other hand, if you have room to spare, Dreams and Whispers sells a pair of fluffy kitten poms for a handbag or set of keys. And if you love Japanese-style kitties, you might want to check out EatingBiting for their joyous Neko cat keychain. To discover the best cat keychains, keep reading for our top picks.
EatingBiting Japanese Neko Beckoning Cat Keychain
Bring some good luck into your life with this beckoning cat keychain.
Are you the superstitious type? Maybe you just love kawaii kitties. This Neko cat keychain ought to scratch that itch. With the attached bell, you'll always know if you've got your keys on hand. Of course, you can remove the bell if you prefer a silent set of keys.
Pros:
The colors are vibrant and won't fade quickly.
We like that you can separate the various components, such as the bell and wrist strap.
Cons:
This is a bit on the larger side if you prefer your keys more compact.
JOVIVI Black White Cat Keychain for Couples
This is the perfect gift for that person that just gets you and how much you love your cats.
Few understand the immense love a cat parent feels for their baby, even other cat mamas and papas. Maybe the only one who gets it is your partner. For the couple that loves their cat and is united by their mutual admiration, this is the perfect set of keychains. It comes in many color sets, all metallic, in the cutest little yin-yang design. As far as inexpensive gifts go, this one is an easy win.
Pros:
We like that you can customize each keychain with your names or other words.
Each keychain only weighs about seven grams.
They'll come without blemishes or scratches, and the stainless steel resists rusting and other long-term damage.
Cons:
We found the chain a bit weak, not suitable for heavier objects.
JOYJULY Cat Kitten Keyrings Key Chains for Car Keys Kawaii
This vinyl key chain comes in several different styles.
Are you ready for the most precious kitten keyring? Then check out JOYJULY and their series of vinyl cat keychains. With four species to choose from, there's bound to be a cat for you to enjoy. Whether you're at home or work, you can set your keys down and stand up one of these little fellows to brighten up your space. And maybe one of these keychains bears a resemblance to your cat. If so, this is the perfect way to feel connected to them when you have to leave the house.
Pros:
All-vinyl construction means these are built to last, unlike rubber or plastic keychains.
A tiny bell is attached, so you can always be sure your keys are in your pocket or purse.
Cons:
It's on the large side, which could be a problem if you like minimal key bulk.
Blulu Sequin Cat Shape Keychains
These sequined cat keychains will be all the rage at your next party.
When it's time to hand out gifts to your cat-loving friends, you'll be glad to have this pack on hand. These reversible sequin cat keychains are the bee's knees. You'll be sure to make some lucky friend's day with a gift like this. They're pretty big, so if you frequently lose your keys, this makes for a useful addition. You can always attach it to a backpack or handbag zipper as well.
Pros:
They're actually quite thin, so these sequin keychains fit more easily into a bag.
We found the sequins to be sewed on securely, even surviving a few weeks with third graders.
They're great for children and adults who need something to stim with.
Cons:
Unfortunately, a few sequins will fall out eventually, even with the best of care.
Dreams and Whispers Faux Fur Ball Pom-Pom Cat Keychains
These delightfully fluffy keychains make for a great addition to your daily handbag or keys.
We adore giving our precious kitties cuddles, but they're not always around, and we miss their soft fur. Have no fear because these adorable faux fur pom-pom keychains are here to save the day. Not only do they look cute as kittens, but they also feel soft and soothing to the touch. We can't get enough of them, which is why we're glad they come in packs of two. Get one for you and your friend, and you can be matching pom-pom buddies.
Pros:
These cat keychains are sizable but not too large to fit in most purses. They're big enough to enjoy petting and looking at, yet small enough to store away.
They're durable and can withstand daily use for months and months.
The kitty heads and tails are made with stitched faux leather, durable and fashionable all at once.
Cons:
Unfortunately, the clip feels a bit weak and flimsy.
Frequently Asked Questions
How do I keep my keychain clean?
Depending on the type of material used, you might find yourself wanting to clean off your cat keychain. For vinyl, plastic, or metal keychains, a simple rinsing with soapy water ought to do the trick. If there's fabric involved, you can use hot steam and a towel to spruce it up, and depending on the manufacturer, you might even be able to throw it in with your laundry.
How do I keep my keychain from breaking and getting lost?
We recommend treating your keys gently. Inspect your keychain periodically and look for any rings that are opening up. If you find any gaps, close them with some needle-nose pliers.
About the Author
Why Trust Us
Since 2008, CatTime has provided millions of cat owners with all the information they need to keep their pets happy and healthy. Our experts know exactly what it takes to raise our furry friends and our goal is to help all owners, new or experienced, care for their cats with all the right food, toys, equipment, and accessories.