The Best Cat Houses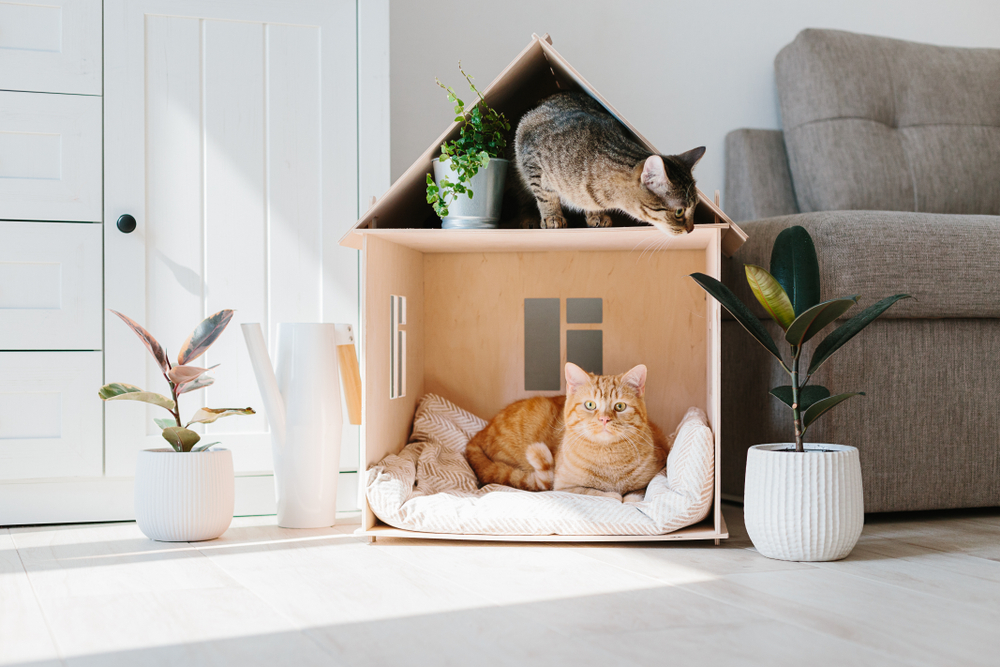 We love our cats. They give us love, attention, and affection. Well, when they feel like it, anyway. One thing we all know is that, much like people, cats like to have somewhere they can go to just be comfortable. That is why we love a good cat house. Cat houses are like dog houses in that they create a small space that is just for your pet. However, cat houses come in a much larger variety of shapes, sizes, and designs. It can be hard to really narrow it down to the right one. That is why we are here with this list of the best cat houses.
Bedsure Cat and Kitten Indoor Cat House
This soft cat house provides comfort and security for your feline friend.
There are a ton of cat houses out there that tend towards the large and spacious. But is that what cats want? Most cats prefer a small, dark space that allows them to feel comfortable and completely secure. The more space there is, the more they feel exposed. That is why we think the Bedsure Cat and Kitten Indoor Cat House is an excellent choice when you are searching for the right cat house for your home.
This cat house is sized perfectly for both small and large cats while being a small enough fit that they will feel nice and safe. Meanwhile, the bed inside is super soft and comfy, giving them the perfect sleeping spot. If it happens to get dirty, simply put the cushion in the wash for quick cleaning. And with such a simple, compact design, this option can fit anywhere in your home. Interested? Check it out for yourself today.
Pros:
This bed is made to be durable and long-lasting
The triangular entrance helps your cat feel secure
When your cat isn't using it you can fold it up for storage
Cleaning and maintenance are fast and easy
Available in 5 colors to ensure it fits right in with any decor in your home
Cons:
It is a bit small for anyone with a cat over 15lbs or so
K&H Pet Products Outdoor Cat House
Give your neighborhood outdoor cats a warm place to sleep when it gets cold outside.
Whether your cat likes to wander or you are just a loving person who likes to protect the neighborhood ferals, you know by now how tough it can be to find a high-quality outdoor cat house. There are lots of ways to DIY, but they often end up costing you even more money and time for something that doesn't even seem comfortable. That is why we think you should skip the projects and get the K&H Pet Products Outdoor Cat House.
This house is large and easily fits large cats, which is a huge bonus. Set it up on your porch, in a barn, shed, or garage, or even use it under an overhang. It can fit nearly anywhere and it does a great job of keeping outdoor kitties warm and safe. There are 2 doors built-in so your cat can't be trapped by a predator, adding to the safety of this product. Overall, this is the best choice for keeping cats safe outside.
Pros:
There are 2 door flaps included that you can attach to keep the heat in when it is cold outside
The heated bed doesn't take much electricity, so you can run it anytime without worrying about your bills going up
It is waterproof and keeps cats safe from the elements
Set-up is easy and can be done in minutes
The pad cover is washable and easy to maintain
Cons:
This bed costs more than the competitors
Furhaven Pet Tiger Tough Cat House and Playground
The perfect cat house and playscape for your favorite felines.
We know it can be tough to provide enough enrichment to your cats or kittens when you live in a small space. That is why we love using vertical space. It gives you plenty of room to work with while leaving plenty of space open. The Furhaven Pet Tiger Tough Cat House and Playground is an excellent example of what versatile vertical space looks like.
This cat house and playground combination includes 2 cathouses, several platforms, and an interactive toy for your cat. It really makes great use of a room without taking up too much of it. We also think your cat will appreciate how high up the cat houses. Cats prefer higher vantage points and comfortable dens and this setup has it all.
Pros:
This is a versatile cat house that provides both sleeping space and room to play
It is great for small homes and apartments
You can use it for multiple cats at the same time
The entire thing is very easy to clean and maintain
Your cat will love the fuzzy faux fur lining
Cons:
This cay house costs more than the competitors
Hollypet Self-Warming Triangle Cat House
Keep your pets warm and cozy in this affordable cat house.
Sometimes we don't want anything flashy or fancy. A simple, affordable cat house that keeps your kitty warm is all you really need and it often makes the most sense, especially for elderly cats or those with anxiety. That is what makes the Hollypet Self-Warming Triangle Cat House so wonderful.
This cat house gives your kitty an enclosed, den-like place to rest. The inside is made of an insulating material that keeps the body heat in, which ensures they always stay nice and warm, even when the air gets chilly. Elderly cats will appreciate the extra warmth and the ease of getting in and out while anxious cats, such as rescues, will love feeling so enclosed and safe.
Pros:
This bed keeps your cat warmer than most other options
It is very soft on the inside
The craftsmanship is excellent, making this bed durable and long-lasting
It's easy to keep clean
You will love the affordable price
Cons:
This bed only works for cats under 17lbs or so
Frequently Asked Questions
Why should you get a cat house for your cats?
Cat houses are good for several reasons. First, they make a good spot for your cat to hide and rest away from other pets, kids, and people. Next, your cat may like to have a den-like place to watch everyone from without feeling exposed. Finally, and most importantly, cat houses can minimize anxiety in your cat.
Why are some cats anxious while others are not?
Anxiety in cats can happen for a variety of reasons. For example, a new kitten or adult rescue is adjusting to you and your home and possibly even your existing pets. Providing a safe space for them to hide and rest will help them feel safer and adjust faster. In some cases, cats may have been abused by humans or attacked by other animals before, so providing a safe haven can help them emotionally heal.