The Best Cat Greeting Cards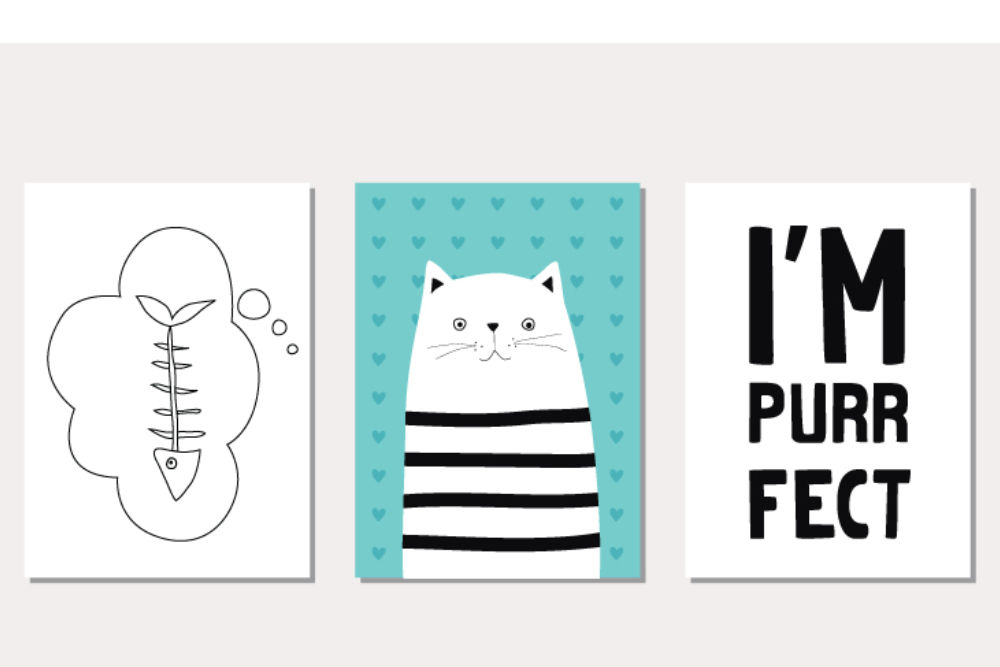 You don't have to own a cat to appreciate the appeal of a cute cat greeting card. Anyone can enjoy a cat-themed card, no matter what the occasion may be. There are many different cat greeting cards out on the market, so we've put together this list of the best to help you find the right cat greeting card to suit your needs. In order to find the best cat greeting cards, we asked ourselves three main questions: Is the card cute or otherwise appealing? Is the card made out of high-quality paper? Is the card reasonably priced? Our top pick came from Hallmark with their birthday card that was not only cute and made of quality card stock but also super funny, especially for cat lovers. Meanwhile, Paper Frenzy offered a wonderful selection of thank you cards that were adorable, affordable, and high-quality. To learn more about these products and the rest of our favorites, keep on reading.
Hallmark Funny Cat Birthday Card
Your cat-loving friends will love this funny happy birthday card.
If you have friends or family who are crazy about cats, this funny card from Hallmark is perfect for birthdays. Decorated with a group of cats who truly couldn't care less, this sassy card is a great way to bring humor to someone's special day. While they'll love the punchline inside the card, there's still plenty of room left inside for you to write a personal message.
Pros:
We think this silly card is sure to get a laugh. The illustrations are adorably drawn and super funny as well.
Made of quality card stock, these cards are thick and won't bleed through.
The card comes packaged in a plastic sleeve to protect it from outside damage.
Cons:
We like this card, but it's a little pricey for a single card.
The Best Card Company 10 Pack Cat Holiday Cards
If you're stocking up on greeting cards, this pack has plenty of variety and cuteness.
If you're looking for an affordable way to stock up on greeting cards, The Best Card Company boasts some adorable cat-covered cards. This 10 Pack offers you a wide variety of fun holiday-themed cards to send. Each card in this pack is decorated with a different cute cat picture, so you never have to worry about using the same type of card twice.
Pros:
The cat doodles are super cute and humorous. Anyone who likes cats is sure to enjoy them.
We like that there's plenty of space inside for you to write a personal message.
The front cover of the card is slightly longer than the back to allow for easy opening.
Cons:
The illustrations are cute, but the cards themselves are on the thin side.
Hallmark Paper Cat Halloween Pop-Up Card
This cute pop-up card is perfect for Halloween.
There's something particularly delightful about pop-up cards. It's fun to watch a flat card come alive into a three-dimensional scene and take notice of all the little details that suddenly appear. Hallmark's Paper Cat Halloween Pop-Up Card is a wonderful seasonal card that's great to send off to family and friends. They'll love the cute black cat with its pumpkin full of candy as it's sure to get them into the Halloween spirit.
Pros:
We appreciate that the card is quick and easy to assemble.
The intricate details on this pop-up card are simply incredible. It's wonderfully designed, colored, and decorated.
While the card works great on its own to send as a cute seasonal greeting to friends or family, it also works great as a seasonal decoration.
Cons:
There isn't a lot of space to write a long note on this pop-up card.
Twigs 12 Pack Assorted Cat Greeting Cards
These beautifully illustrated cat greeting cards will bring a smile to someone's face.
For a cat-themed greeting card ideal for any occasion, you'll love Twigs' 12 Pack of Assorted Cat Greeting Cards. These simplistic yet beautiful cat greeting cards are printed without any text, only the artwork. You can use them as sympathy cards, get well soon cards, thank-you cards, or anything in between.
Pros:
It's hard not to love the gorgeous original watercolor artwork printed on these cards. The design is absolutely lovely.
These cards are a great choice for those who are environmentally conscious. The cards are made from 100% recycled material and the ink used is non-toxic and eco-friendly.
We love that the card stock is very thick and durable.
Cons:
The cards are a little more expensive than some other cards but still reasonably priced.
Paper Frenzy Kittens and Cats Thank You Card Collection
These cat-themed thank you cards are a great way to show someone gratitude.
Everyone appreciates a handwritten thank-you note after they've done you some sort of kindness. Whether they've given you a gift, helped you out with a project, or supported you in some significant way, it's nice to be acknowledged. With Paper Frenzy's Kittens and Cats Thank You Card Collection, you can send out extra cute thank-you cards that are sure to be loved by anyone who receives them.
Pros:
The cat artwork is adorable, and there's a variety of cute drawings to choose from when writing a card to send someone.
The cards are all made of high-quality, thick card stock. Even if you write with a thicker pen, there is little risk of it bleeding through the card to the other side.
Not only are these cards very high-quality, but they are also very affordable.
Cons:
The cards are smaller than the standard card size.
Frequently Asked Questions
What is the best way to seal the card's envelope?
If your envelope does not come with an adhesive edge, you will have to create your own. The most secure way to keep your envelope closed is by taping it closed or by using a glue stick along the edges to adhere it into place.
Can I use markers on these cards?
Yes, it is possible to use markers on the cards. However, the heavier the ink, the more likely it is to bleed through the card.
About the Author
Why Trust Us
Since 2008, CatTime has provided millions of cat owners with all the information they need to keep their pets happy and healthy. Our experts know exactly what it takes to raise our furry friends and our goal is to help all owners, new or experienced, care for their cats with all the right food, toys, equipment, and accessories.